por
John R. Fischer
, Staff Reporter | October 09, 2019
From the October 2019 issue of HealthCare Business News magazine
Keeping a shield in top working order means providing routine maintenance on it, according to Mike Krachon, director of sales and marketing for IMEDCO America Ltd. "This can include a monthly inspection of the door frame looking for RF finger / gasketing damage; cleaning the frame of any tarnishing or oxidation, checking for door handle sturdiness, visually looking for frame or door disfiguration; checking the compressors for cycling frequency; and draining if necessary, and inspecting supply air lines for leakage."
Looking toward a successful MR suite
Shields can last anywhere from five to 20 years, or even longer if proper installation and maintenance measures are in place. To get off on the right foot, it's advisable to work with a consultant or architect independent of shielding vendors, and to look at multiple vendor options before committing to one.

Special-Pricing Available on Medical Displays, Patient Monitors, Recorders, Printers, Media, Ultrasound Machines, and Cameras.This includes Top Brands such as SONY, BARCO, NDS, NEC, LG, EDAN, EIZO, ELO, FSN, PANASONIC, MITSUBISHI, OLYMPUS, & WIDE.

"Contacting at least five RF vendors for what they may have to offer will ensure the customer has a good picture of what is available," suggested NELCO Worldwide's Turner. "By locking yourself in a specification around one of these vendors, you preclude other, qualified ones from the project and establish a blank check for the vendor the specification is written around."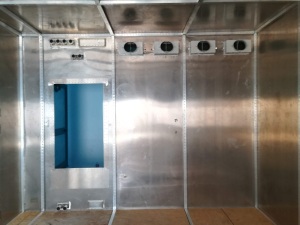 Construction of a shield should be based on the layout of the room, which affects the material the shield is made out of, how it's positioned, and the doors and wiring of the room. Another important item to keep in mind for preserving the integrity of shields is the equipment brought into the MR suite and its impact on shield performance.
"If a piece of equipment is MR-approved, the vendor that you are buying from will know and will have researched the interface piece in the shield," said ETS-Lindgren's Geiger. "If they don't know what that interface is they have not tested that system. A lot of people say it's approved because it's non-ferrous, but haven't actually checked it electrically to make sure they can get the electronics into the room."
As a last bit of advice, although it's easy to want to save pennies wherever possible when embarking on an MR suite project, sometimes it's important to think big while keeping your eye on the goal. "There are benefits to having a larger than the bare minimum observation window from the operator's console and the tech area into the MR scan room," said Radiology Planning's Gilk. "I would never advise a facility to go with the smallest option."
Back to HCB News