por
John R. Fischer
, Senior Reporter | April 06, 2020
From the April 2020 issue of HealthCare Business News magazine
Expanded access to proton therapy should also have a direct correlation on the number of radiation oncologists who are trained to offer it.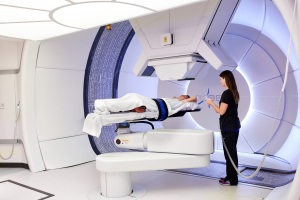 "When physicians are trained in radiation therapy, they're not trained to use protons unless they're at a facility with access to it," said Dr. John Breneman, medical director of the Cincinnati Children' Hospital Medical Center UC Health Proton Therapy Center. "Most major cancer centers now offer proton therapy. But those are still the minority of programs where radiation oncologists are trained."

Quest Imaging Solutions provides all major brands of surgical c-arms (new and refurbished) and carries a large inventory for purchase or rent. With over 20 years in the medical equipment business we can help you fulfill your equipment needs

Flash therapy, in which large doses of radiation are delivered in a fraction of a second, is also stirring optimism in the proton community. The speed of the dose is expected to help it irradiate tumors while sparing healthy surrounding tissue, and in the process, lower entire treatment time from the typical seven weeks to less than a second. Advocates of the practice say such benefits may ultimately lead to greater access to cancer treatment at lower costs.
"I do hope we will see it in several years clinically," said Stolpner. "The main thing about Flash is that it will make proton therapy more affordable, because in theory, we will be able to use three or four fractions instead of 30."
Back to HCB News