California healthcare workers take HCA Healthcare to court over COVID-19 failures
por
John R. Fischer
, Senior Reporter | August 31, 2020
Business Affairs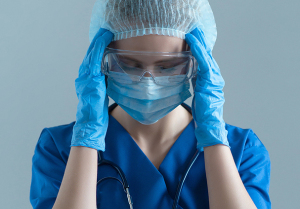 A group of California hospital workers are taking the largest healthcare system in America to court for allegedly failing to prepare and protect healthcare workers against the COVID-19 pandemic.

Three employees at Riverside Community Hospital and the daughter of a former employee who contracted and died from the virus filed a suit last week in Superior Court of California, County of Riverside against the hospital's parent company, HCA Healthcare. They are accusing it of taking actions that created a dangerous work environment and failing to equip staff with adequate PPE, and pressuring them to focus more on their work and less on their safety.

The suit is the first to be brought against a national healthcare system since the start of the pandemic, according to the plaintiffs Vanessa Mondragon, Gladys Reyes, Ray Valdivia, and Vanessa Campos Villalobos, who spoke to reporters during a virtual press conference on the suit.

"This is not a responsibility that ends at the doors of the hospitals," said Dave Regan, president of Service Employees International Union – United Healthcare Workers West, the union representing the plaintiffs in the suit. "Healthcare workers are essential employees and they have families who, by extension, become essential employees if the proper protections are not taken. We are taking this action to get as much attention as we can about the ongoing difficulties that workers are facing at Riverside Community Hospital, and [for them to be] heard in getting the proper equipment and having their issues taken seriously by management."

The defendants named in the suit include HCA Healthcare; Samuel N. Hazen, CEO of HCA Healthcare; Riverside Healthcare System (which does business as Riverside Community Hospital); and Jackie DeSouza-Van Blaricum, CEO of Riverside Community Hospital.

Among the allegations against them are forcing employees to work without adequate personal protective gear such as masks, gowns and face shields, and pressuring employees to not take reasonable and necessary precautions against exposure to COVID-19, such as frequent sanitization of commonly used medical tools, out of fear that taking such precautions would harm efficiency and productivity.

Reyes, a lab tech and phlebotomist who tested positive in early June for the virus, asserts that she was pressured to focus on making more draws from patients rather than sanitizing and taking steps to ensure she and her patients were safe from contracting the virus.

You Must Be Logged In To Post A Comment
Registrarse es Gratis y Fácil.
Disfruta de los beneficios del Mercado de Equipos Médicos Nuevos y Usados líder en el mundo.
¡Regístrate ahora!