DOTmed HealthCare Business News is a dynamic and efficient advertising option in the healthcare space. The unique content of our articles provides our readers with vital information they need and can use every day to make better buying decisions. With a circulation of over 30,000 that reaches the key influencers and decision makers across the healthcare spectrum - plus our competitive ad rates - DOTmed HealthCare Business News is the ideal medium for any product or service designed for the healthcare industry.
Reach the Key Personnel Involved in Major Medical Equipment, Products, and Service Purchases
The business environment inside a hospital is unlike any other. The multiple department heads and de-centralized nature of a hospital create a business structure in which many people are involved in major purchase decisions - and no two hospitals operate in exactly the same way. So that means you - as an advertiser - have a large number of people to reach.
DOTmed HealthCare Business News' unique demographics delivers those all-important people: The C-level executives and administrators, and key department heads. In addition, DOTmed HealthCare Business News reaches over 3,000 top imaging centers and thousands of leading ISOs, OEMs and equipment brokers and dealers, giving you virtually all the major players in the healthcare space.
DOTmed HealthCare Business News is published by DOTmed.com - the world's leading, public marketplace for buying, selling and auctioning medical equipment and parts online.
DOTmed.com has over 310,000 registered users. Included among them are the medical industry's leading equipment sales and service companies. This gives us access to a database no other publication can tap into.
In Every Issue
IT Matters - Take a quick look
DOTmed helps readers stay ahead of the curve with keen analysis from IT experts on what the latest technological developments mean for the industry.
Cost Containment Corner - Take a quick look
One of the great universal themes in healthcare is the need to lower costs without compromising care. Every month we bring in an expert on a particular aspect of the hospital enterprise who shares ideas about how to mitigate damage to the bottom line.
Shows & Conferences Spotlight - Take a quick look
Previews of the most important upcoming industry shows are presented here. Readers are also offered a calendar of events for the months ahead.
Hospital Spotlight - Take a quick look
Every month we select a U.S. hospital and focus on its accomplishments and conduct a Q&A session with the hospital's leadership.
Best of the Daily News - Take a quick look
A tidy recap of the biggest breaking news stories of the month, taken from our online Daily News. This is where you go for the latest current events impacting the industry.
The Future of Health Care - Take a quick look
Each month, we present a key figure in the health care sector and his or her predictions about where certain aspects of the industry are headed - from world-renowned surgeons, to industry innovators, to best-selling authors (sometimes all three), the "Future of" column offer serious food for thought.
If you want to reach the key influencers and decision makers who drive purchasing decisions, HealthCare Business News is your best advertising vehicle.
Industry Sector Reports 2020 Editorial Calendar
Advertise in the issues featuring the Industry Service Reports and/or features matching your products and services for maximum results!
Download This Calendar Here.
BONUS CIRCULATION EACH MONTH: Based on the content of our Industry Sector Reports, each month we will mail bonus circulation to individuals and companies specifically involved in those areas.*
JAN/FEB DOUBLE ISSUE – DEVICE HTM
FEATURES
Patient monitors
Testing equipment
Infusion Pumps
DEPARTMENTS: AEDs, Cybersecurity, RTLS, RIS, PACS
CURRENT EVENTS: ECR Q&A / Exhibitor guide / Product showcase
Bonus Distribution: ECR
MARCH – CARDIAC IMAGING
FEATURES
What's new in C-arms and tables?
Cath angio / special procedures – Trends and innovations
Cardiac ultrasound – Trends and innovations
DEPARTMENTS: Cath angio injectors, Wearables and heart health, Interventional radiology
CURRENT EVENTS: WHCC Q&A, DOTmed 100
Bonus Distribution: HCP Spring Conferences, SIR

APRIL – PEDIATRICS / PROTON
FEATURES
Fear Factor – making hospital less scary
Proton therapy – access update
DEPARTMENTS: Contrast enhanced ultrasound
CURRENT EVENTS: NAPT Q&A
Bonus Distribution: NAPT, IDN Spring Summit

MAY – IMAGING HTM
FEATURES
DEPARTMENTS: Cybersecurity, Phantoms, Reprocessing / sterilizing, AEDs
CURRENT EVENTS: AAMI Q&A / Exhibitor guide / Product showcase
Bonus Distribution: AAMI, Intalere Elevate

JUNE – SUPPLY CHAIN
FEATURES
Supply chain trends and innovations
Install / Deinstall
Mobile imaging
What's new in PET and SPECT?
DEPARTMENTS: Imaging informatics, Teleradiology
CURRENT EVENTS: FIME Q&A / Exhibitor guide / Product showcase; SNMMI Q&A / Exhibitor guide / Product showcase; SIIM Q&A
Bonus Distribution: FIME, SIIM, SNMMI

JULY – WOMEN'S HEALTH
FEATURES
What's new in breast imaging?
OB/GYN ultrasound
DEPARTMENTS: Breast density update, Disaster preparedness, Imaging department management, RTLS
CURRENT EVENTS: AHRA Q&A / Exhibitor guide / Product showcase
Bonus Distribution: AHRA, AHRMM
AUGUST – PARTS & SERVICE
FEATURES
Non-OEM service trends
OEM service trends
X-ray tubes

DEPARTMENTS: Tips for negotiating service contracts, Ceiling mounted installations, Lifecycle management
CURRENT EVENTS: Best of AAMI
Bonus Distribution: IDN Fall Summit

SEPTEMBER – MR
FEATURES
What's new in scanners and coils?
MRI Keep Cold (Chillers, Coldheads, Compressors)
Coil maintenance tips
RF Shielding

MR safety / detectors

MR remote monitoring

Patient experience
DEPARTMENTS: Theranostics, WMIC Q&A
Bonus Distribution: HCP Fall Conferences

OCTOBER – CT / RADIATION ONCOLOGY
FEATURES
What's new in radiotherapy?
What's new in CT?
Radiation shieldin
DEPARTMENTS: Proton therapy trends, Spectral CT, MR linac
CURRENT EVENTS: ASTRO Q&A / Exhibitor guide / Product showcase
Bonus Distribution: ASTRO
NOV/DEC DOUBLE ISSUE – RSNA / BEST OF 2020
FEATURES
What's new in DR / Fluoroscopy
What's new in detector
Portable X-ray
Forces impacting radiologis
DEPARTMENTS: Charity profile, CT year in review, MR year in review, X-ray year in review, AI year in review
CURRENT EVENTS: RSNA Q&A / Exhibitor guide / Product showcase
Bonus Distribution: RSNA

CLOSING DATES
Insertion Order Closing Date: Insertion orders must be received 45 days prior to the month of publication for all issues.
Materials Deadline: Ad materials must be received no later than 35 days prior to the month of publication for all issues.
Cancellations: Ad cancellations are not accepted after the Closing date.
*Premium Ad Pages are: page one, facing the ToC, special positions and all positions in special promotional sections
Advertorials
An advertorial lets you present a detailed and complete "sell story" about your company and services in an "editoral' format. You provide the content, DOTmed will help you "polish" it, and provide our quality design services free of charge.

List price: 1-Page Advertorial, $5,000. 2-Page Advertorial $8,500.

To see a sample Advertorial, click here
Resource Guide Advertising
All ads are full color and 1/4 page in size.
1x rate is $750.
Any 5 consecutive issues for $3000.
All 10 Issues per year for $5000.
1/4 page Artwork Size: 3 3/8" x 4 7/8".
Includes your ad on DOTmed.com's homepage.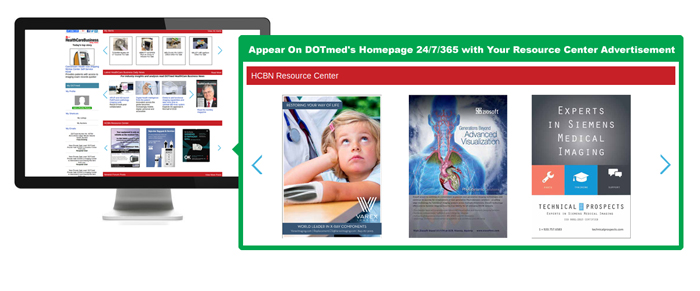 PRINTING/SPECIFICATIONS
Printing: Web Offset
Binding: Saddlewire
Full Page Size: 8.375" x 11" (includes 1/8" bleed)
Bleed size: 8.375" x 11"
Trim size: 8.125" x 10.75"
Safety area: 7.625" x 10.25"
When a full page ad is printed it is printed at the bleed size.
After it is printed it is trimmed to the trim size.
The safety area ensures that any important copy or design elements are not too close the edge of the page.
Final ads must be submitted at the Bleed size of 8.375" x 11"
Click here to download a full page ad template which has bleed, trim, and safety marked on it to use as a guide when creating your ad.
Line Screen: 133
4/C maximum: 260-280%
Essential live matter on full page bleed and fractional bleed ads should be kept at least 1/2" from all trim edges. Bleed ad sizes include a 1/8" bleed on all sides.