This report originally appeared in the May 2009 issue of DOTmed Business News
Despite the economy, 2009 will be a banner year for proton therapy, with two new facilities opening in the U.S. -- the Roberts Proton Therapy Center at University of Pennsylvania Health System and ProCure Proton Therapy, Oklahoma City. The massive projects have been long planned with funding in place for many years. However, newer sites have encountered a few road blocks.
"There are two forces at work. While the financial world is undergoing calamities, the medical world surges forward. There is actually much more interest and demand for proton therapy today than there was even a year ago," said Hadley Ford, Chief Executive Officer and Director, ProCure Treatment Centers, Inc. "The flipside of that is hospitals don't have as easy access to capital today or their boards want to be prudent in capital plans until they know the effects on operations."

Quest Imaging Solutions provides all major brands of surgical c-arms (new and refurbished) and carries a large inventory for purchase or rent. With over 20 years in the medical equipment business we can help you fulfill your equipment needs

In addition to its Oklahoma City flagship, ProCure has another fully funded project in the Chicago area - the Proton Therapy Center of Central DuPage Hospital. Two other ProCure projects are under development in Florida and Michigan; a major announcement was brewing at press time (go to www.dotmed.com/news/story/8820 for updates); and yet another proton site is in the offing in the western U.S.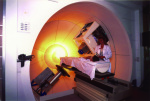 ProCure's partner in the Detroit area project, William Beaumont Hospital, faces some financial challenges that impact its proton center development; and Florida has land issues. Nevertheless, with so many irons in the fire, Ford is confident.
"We have seen some pressure from hospitals based on their ability to move forward with projects. We think that's just a cycle and we [will] end up with pent-up demand that will be released once we come out of the recession," Ford said.
Also scheduled to open this year is the Roberts Proton Therapy Center at the University of Pennsylvania Health System, projected to treat 3,000 patients a year, including U.S. military personnel in partnership with Walter Reed. Children will be a priority at the institution, a concern and focus at several proton therapy centers including Massachusetts General Hospital and M.D. Anderson.