por
Lisa Chamoff
, Contributing Reporter | May 17, 2021
From the May 2021 issue of HealthCare Business News magazine
"The N-Series eases clinical workflow at bedside and during patient transport by providing a comprehensive monitoring platform that is easy to use and delivers patient data where and when it's needed," Aquaviva said. "This is highly valued by both the hospital and the clinical team."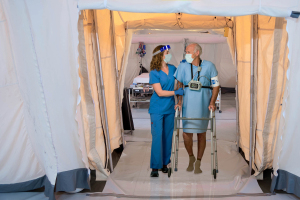 Nihon Kohden
Last September, Nihon Kohden responded to the COVID-19 surge at hospitals with a new solution called NK-HealthProtect Wireless Surge Solution.

Quest Imaging Solutions provides all major brands of surgical c-arms (new and refurbished) and carries a large inventory for purchase or rent. With over 20 years in the medical equipment business we can help you fulfill your equipment needs

The product, which comes with eight Life Scope G3 (GZ-140) battery-operated, wearable monitors and a laptop loaded with the company's Prefense Early Detection and Notification System, was designed to be deployed quickly — within two weeks — and allow hospitals of any size to scale up monitoring capabilities more easily.
"The market needed a solution that was easy to deploy and quick to setup, Nihon Kohden met this need with a Wireless Surge Solution, which can be deployed in a matter of days, as opposed to the usually a 90-day-plus process" to set up a monitoring system, said Elias Bitar, director of patient monitoring marketing and business Development for Nihon Kohden.
Previously, in March 2020, the company released the NK-HiQ Waveform Server Extension. It provides output of the raw waveforms — vital signs and alarms — that the system generates and gives the hospitals more flexibility, allowing them to send the information to any endpoint and enable remote monitoring.
"Hospitals are looking for easy and cost-effective ways to get access and use patient monitoring data and the NK-HiQ Waveform Server Extension enables this," Bitar said.
This past January, Nihon Kohden released its ViTrac remote viewing application on Windows 10. ViTrac allows facilities to visualize the information from patient monitoring systems, enabling different tele-monitoring applications
Philips
Last June, Philips received Emergency Use Authorization from the FDA for use of its IntelliVue Patient Monitors MX750/MX850, IntelliVue 4-Slot Module Rack FMX-4 and IntelliVue Active Displays AD75/AD85 during the COVID-19 pandemic.
The solutions allowed for critical information on hospitalized COVID-19 patients to be sent remotely to minimize staff exposure to the virus and save on the use of PPE.