por
Lisa Chamoff
, Contributing Reporter | May 17, 2021
From the May 2021 issue of HealthCare Business News magazine
The device does spot-check monitoring of blood pressure, SpO2, glucose, weight, temperature spirometry, and EKG, and connects to a cloud server.
"It allows the physician to do a complete diagnostic check of the patient with a single device, said Suleyman Bilgutay, managing partner at Infinium Medical. "Normally they'd have to use five or six different tools for that."

Quest Imaging Solutions provides all major brands of surgical c-arms (new and refurbished) and carries a large inventory for purchase or rent. With over 20 years in the medical equipment business we can help you fulfill your equipment needs

Bilgutay said that that the doctor could also send the monitor home with the patient, and could also bill insurance for the spot checks.
The company has had the product in development for the last five years, the COVID-19 pandemic has advanced telehealth and remote patient monitoring.
"COVID-19 has somewhat accelerated the remote care industry, but we've had this in development for four or five years now," Bilgutay said.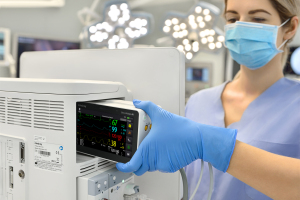 Mindray North America
In April 2019, Mindray released its BeneVision N-Series multi-parameter monitors for hospital-wide monitoring use.
The product provides electrocardiogram (ECG) monitoring, pulse oximetry, invasive and noninvasive blood pressure, temperature and respiration monitoring at the bedside and during transport, with the ability for other parameters, such as CO2, cardiac output or continuous cardiac output, to be added as needed.
The system offers a 5.5-inch touchscreen monitor/module; other bedside monitor sizes include 12-inch, 15-inch and 18.5-inch, as well as 19-inch and 22-inch flat-panel monitors.
"Using the BeneVision N1 monitor/module, this patient monitoring solution can deliver the same level of care on transport as provided at the bedside with no cable, setting or screen changes necessary," said Beth Aquaviva, senior marketing manager for Patient Monitoring and Life Support at Mindray.
"The BeneVision N1 Monitor/Module provides gap-free monitoring and collects patient data at the point of care, which is sent to the EMR wirelessly, or it can be downloaded to the bedside monitor upon return from transport, with no loss of data on transport," Aquaviva said.
The BeneVision N-Series monitors have been widely accepted since launch and have surpassed those of the system's predecessors, the Passport 12m/17m and T1 transport monitor. N-Series adapts to a hospital's environment, allowing choice of acuity level and the ability to disperse the BeneVision monitors throughout the hospital. The BeneVision platform provides the flexibility needed to meet a hospital's ever-changing patient care needs, especially during the COVID-19 pandemic, Aquaviva said.