por
John R. Fischer
, Senior Reporter | August 24, 2020
From the August 2020 issue of HealthCare Business News magazine
"On a fluro room you need to pull the rear bolts on the table," he said. "If your unit is locked in center position, you can't get to the center bolts. All bolts need to be out to slide out the 4,000-pound table. The only way you're getting to these bolts is when you rotate the table at a 90-degree angle. If you don't have the power or if the power is shut off on the system, you have to manually rotate. If you don't know what you're doing and you're dealing with a bunch of different modalities at one time, you got yourself into a headache."
Prep the room, floors and hallways
The first step of any job is to develop a plan and timeline for the project. This according to Craig Diener, director of sales, marketing and procurements at Universal Medical, begins with a room inspection to measure dimensions.

Quest Imaging Solutions provides all major brands of surgical c-arms (new and refurbished) and carries a large inventory for purchase or rent. With over 20 years in the medical equipment business we can help you fulfill your equipment needs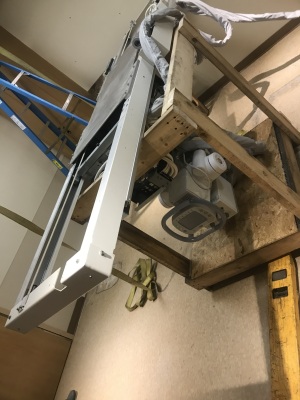 "This involves more than just length and width of the walls but also those of the door frame, hallway outside the room, and any cabinets or objects that will remain inside the room during construction," he said. "We need to measure every possible dimension in the room and pathway to ensure the new system will fit. During the planning process a room drawing of the new system should be done to ensure the system will fit in the room and that it can be operated in a manner that allows for proper workflow. Any construction needs to be coordinated so that it occurs between removal of the old system and installation of the new system."
He adds that it's best to remove as many objects as possible from the room, to avoid damaging them and to make it easier for the moving team by not having to work around as many items. Those that cannot be removed should be tagged and covered in protective materials to minimize risk of damage.
Loading docks also need to be measured and assessed for transporting systems, as do elevators in jobs that take place multiple floors up. This means having the service provider measure the dimensions and weight capacity of the lift to ensure it can safely deliver the system to the desired location. If it cannot, the facility may need to contact the elevator company for external assistance.