por
Mai Hiraoka
, Media Relations Manager | November 29, 2019
From the November 2019 issue of HealthCare Business News magazine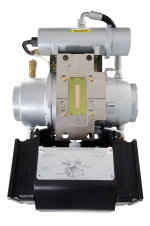 Dunlee DA200ULTRA CT Replacement tube
Dunlee – South Hall A, #3307
This OEM-equivalent, 6.3 MHU CT replacement tube can replace GE CT tubes in the BrightSpeed™*, Discovery™*, Lightspeed™* and Optima™* families Dunlee used knowledge gained through its long history in tube development to optimize this tube, resulting in excellent quality. In fact, Dunlee is so certain of the tube's reliability that it provides a 12 -month, full warranty. The Dunlee DA200ULTRA replacement tube is manufactured in the USA. *The products listed may be trademarks of the OEM. For the latest information regarding the compatibility of CT tubes and scanners, please refer to our cross-reference guide at dunlee.com

Quest Imaging Solutions provides all major brands of surgical c-arms (new and refurbished) and carries a large inventory for purchase or rent. With over 20 years in the medical equipment business we can help you fulfill your equipment needs

CEIA MSDW
CEIA USA Ferromagnetic Division - South Hall A, #3180
The wall-mounted CEIA MSDW detects magnets and all ferromagnetic objects considered dangerous in the MRI environment. The MSDW can operate as a single unit for a passby or rotate-by checkpoint or it can operate in pass-through configuration with CEIA's exclusive EVO analyses, which features uniform detection sensitivity over the entire transit area. Multi-zone acoustic and optical alarm signaling indicates the ferrous threat items on patients and staff. Limited operator training is required for ease and speed of system use. Integrated memory logging is available for recording up to 70,000 events including alarms, programming modifications and diagnostics
Lamboo Powered by SVSR Mobile Medical Unit
Lamboo Powered by SVSR, Inc. - North Hall B, #8544
Lamboo Powered by SVSR mobile units are assembled and constructed out of reinforced sandwich panels for extreme weather conditions. Seamless side wall construction, no corrosion, no rivets, high insulation valve, integrated shielding and lighter weight are just a few of the advantages of the sandwich panels. All units are produced in the US and we cooperate and install all major OEM medical equipment.
Innovative 5MP Color & Monochrome Diagnostic Displays
JVC Healthcare - South Hall, Booth #1742
For decades, JVC's unmatched technologies and expertise have opened doors to groundbreaking advancements in numerous industrial markets. And now, the medical imaging is the newest addition to its portfolio. JVC presents the "i3 Series" CL-S500 and MS-S500 further broadening the medical diagnostic imaging field to the next level. The 5MP color and monochrome displays offer new and exciting features including a sleek and stylish design with two-tone color, self-calibration, a glass protective panel and more consistent image quality. The new color management technology of the "i3 Series" features its unique X, Y, Z tracking and sophisticated color matching. We will also showcase a prototype of 12MP monitor with the i3 technology which can handle any type of image including digital mammography and general x-rays. Combined with the new calibration software QA Medivisor Agent, the JVC solutions make it easier to manage the day-to-day operations in the radiology department.