por
Mai Hiraoka
, Media Relations Manager | November 29, 2019
From the November 2019 issue of HealthCare Business News magazine
LG Business Solutions - South Hall A, #2565
The LG 21.3-inch 3MP IPS display with 1000 nits brightness facilitates the viewing of medical images from CT and Angiography by presenting quality and accuracy. The 21HK512D clinical monitor allows medical professionals to easily distinguish even delicate detail. The standard DICOM Part 14 Gamma allows for accurate diagnostics as it adjusts the greyscale levels of medical images received from different types of image capturing devices. Plus, 18-bit LUT also provides an enhanced, accurate grayscale image, smoothing out the transition between LUT values. Auto Luminance sensor measures the backlight brightness stability and automatically compensates for brightness fluctuations caused by aging for a consistently stable display during the usage life.
LC3 Lifting Columns
LINAK U.S. Inc. - South Hall A, #3974

Numed, a well established company in business since 1975 provides a wide range of service options including time & material service, PM only contracts, full service contracts, labor only contracts & system relocation. Call 800 96 Numed for more info.

The LC3 lifting column family from LINAK is instrumental in high-end medical applications like imaging equipment. Available in standard, heavy-duty and two-stage versions, the LC3 is our strongest lifting column and can lift 1340 lbs.from the floor and 900lbs. from the ceiling. Whether your imaging application includes a C-arm or an adjustable table with ceiling mounted equipment, the essentials of accurate positioning, flexibility and speed are ensured by the LC3 lifting columns.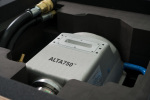 ALTA750® CT Tube
Richardson Healthcare - North Hall B, MS 303
Richardson Healthcare received CE Mark approval for the ALTA750® X-Ray Tube. The ALTA750 is a form, fit and function replacement for the Toshiba/Canon Medical Systems CXB-750D/4A CT tube. It is certified on OEM platforms from Toshiba Aquilion 4 through the PRIME. The ALTA750 has a prorated 12-month or 200,000 rotations limited warranty, whichever comes first. To optimize and increase the life of your new ALTA750 tube, Richardson Healthcare includes a Heat Exchanger and new HV Cable Kit as a complete tube assembly.
TechGate Auto
Aegys & ETS-Lindgren - South Hall A, #4047
TechGate Auto from Aegys is an advanced warning system for controlling access to the MRI room. Warning messaging is effectively communicated through the utilization of bright, dynamic, color changing LED barrier arms which extend across the opening to the MRI room. These barrier arms are rotated into position automatically by activation from MRI conditional remote transmitters or by the transit of anyone into or out of the room. Unlike plastic chains or retractable belts that require manual latching each and every time, the TechGate Auto self deploys ensuring effective hazard warning and access control at all times. "Caution Barriers" are now recommended by the American College of Radiology to protect the MRI room entrance when the door to the MRI room is open.