por
Mai Hiraoka
, Media Relations Manager | November 29, 2019
From the November 2019 issue of HealthCare Business News magazine
MCS-6074D CT Tube
Varex Imaging - South Hall A, #4729
New Varex MCS-6074D is designed as a replacement for the GE Performix 40 X-ray tube on the Optima CT660 CT scanner. Utilizing conventional bearings, the MCS- 6074D comes with a 12 month or 6000 patient exam warranty. Replaces OEM part numbers D3187T, D3188T, 2137130-11, 2137130-2

Numed, a well established company in business since 1975 provides a wide range of service options including time & material service, PM only contracts, full service contracts, labor only contracts & system relocation. Call 800 96 Numed for more info.

Cardinal CT Tube
Varex Imaging - South Hall A, #4729
The Cardinal (Computed Tomography) CT tube is being designed into new OEM equipment and is optimized for use in mid-tier range CT scanners. It also is a direct replacement for the Stargate/ CTR-2150 tube used in Philips Brilliance 6(r) and 16 CT scanners. With an X-axis toggling focal spot, a 5MHU anode and a 0.5 second gantry speed, the Cardinal has high heat capacity, excellent image quality and throughput allowing for quicker imaging. The tube also has a 12-month full replacement warranty.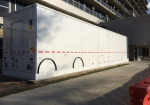 Transportable MRI
AMST, a Kentucky Trailer company South Hall A, #5152 & North Hall B, #8537
Is your radiology department looking for quality imaging space outside the hospital footprint? In addition to standard mobile units, AMST manufactures transportable solutions. Transportables are oversized, semi-permanent medical units that bridge the gap between mobile units and modular buildings or fixed sites. At dimensions of 48-ft. or 60-ft. long and 10-ft. or 12-ft. wide, transportable solutions provide significantly more interior space than mobile units, without the construction costs and regulatory issues associated with fixed builds. Transportable solutions are highly customizable and provide an attractive and spacious environment for imaging. On wheels, transportables can be made to appear fixed but are easily removed when a project is completed.
VIVIX-S V series
Vieworks Co., Ltd. - South Hall A, #1723
View it now and you will know, VIVIX-S V series. VIVIX-S V series is the most reasonable DR detector that meets advanced technology and beautiful design to offer the pleasure of daily workflow. Presenting a cassette-size DR detector offered in 3 sizes - 25x30cm (VIVIX-S 2530V), 36x43cm (VIVIX-S 3643V), and 43x43cm (VIVIX-S 4343V). The new VIVIX series offers superior image quality through enhanced DQE and advanced image processing technology. Also, excellent durability reduces errors due to the careless management of the detector. Moreover, the lightweight and user-friendly design of VIVIX-S V series maximizes mobility. This series is currently under the FDA 510(k) clearance process.