por
John R. Fischer
, Senior Reporter | November 25, 2019
From the November 2019 issue of HealthCare Business News magazine
Telemedicine and AI integration
The amount of data available today, while helpful, is difficult to manage, with providers spending hours sifting through excess information for the most relevant details for their readings and interpretations.
There is much optimism that the introduction of AI applications and algorithms will help relieve this burden by acting as helpful assistants that extract and synthesize information from EHRs, and prioritize images in arrangements based on the preferences of the radiologists and urgency of the cases.

Midmark Workstations are made to order with customization that can assist with the integration of telehealth and other technology at the point of care, wherever that may be. See more>>>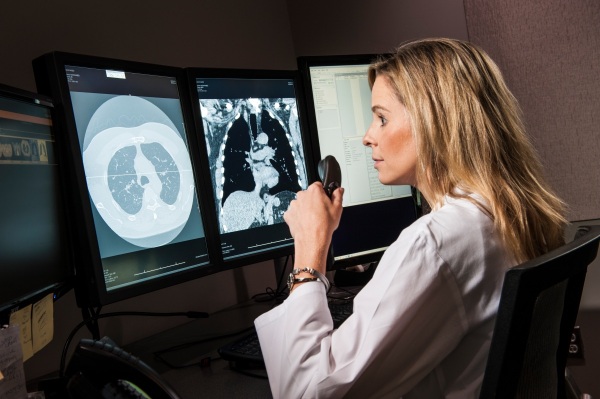 "Radiologists are certainly thinking about AI and how it may enhance our workflow," said Dr. Margaret Fleming, a radiologist at the practice, Quantum Radiology in Georgia. "For instance, can an AI algorithm help sort a worklist such that patients with the most critical findings are sorted to the top?"
This use of AI aims to reduce repetitive steps that radiologists must complete at workstations to allow them to spend more time interpreting findings, and take into account patient history and priors to come up with accurate diagnoses and prescribe the best treatments possible. It also ensures they spend more time with patients.
But AI alone cannot fully manage the increasing number and complexity of imaging studies. The growing amount underscores the need for a greater number of radiologists, who currently are facing a shortage in their profession. This especially becomes noticeable when patients require a subspecialist or sub-subspecialist that is not available where they live. As a result, more radiologists are employing teleradiology. In fact, radiologists ranked highest by the American Medical Association for using telemedicine to facilitate patient interactions.
"The technology allows radiologists to do their jobs from just about anywhere beyond the confines of the four walls of the hospital," said Shah. "Our teleradiologists do final interpretations now, not just wet reads, from the U.S., and work their shifts overnight from home. This has allowed imaging to increase overnight more and more."
Getting your money's worth
Teleradiology faces its own hurdles, the biggest of which is the lack of a reimbursement code, according to Shah, who says it deters radiologists, as they are motivated more to do things they will be paid for.