In addition to this, total growth in the U.S. mammography installed base is also beginning to slow. As Figure 2 shows, since 2015 and the initial drive in adoption of DBT, the number of new units installed in the U.S. has been growing. However, the annual rate of growth has slowed, from 11.7 percent in 2015 to 8.5 percent in 2018, with the decline in growth rate forecast to continue over the period to 2023.
Thus the U.S. market, which forms the majority of the breast imaging market today, is predicted to slow over the next five years.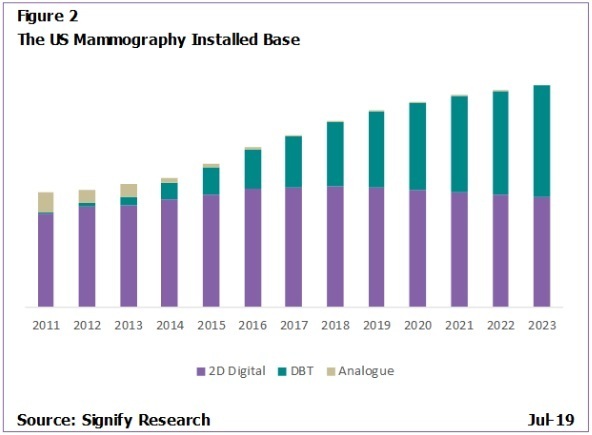 Numed, a well established company in business since 1975 provides a wide range of service options including time & material service, PM only contracts, full service contracts, labor only contracts & system relocation. Call 800 96 Numed for more info.

This slow down in growth will significantly affect the global market, as the U.S. has been the real engine for growth over recent years. Other large regions, like Western Europe, have seen limited growth now for several years, and although high growth has been projected in regions such as the EEMEA and Asia, the comparative gains in revenue are not predicted to be enough to maintain historical global growth rates.
2. Pricing pressure is set to increase
The decline in global growth is also set to be exacerbated by a decline in ASPs. DBT vendors have enjoyed a period of relative isolation for several years, with few competitors. This has resulted in little price pressure and ASPs remaining relatively high.
As an example, in the U.S. there have been largely only three vendors selling DBT solutions for several years (namely Hologic, GE Healthcare, and Siemens Healthineers). However, during 2017 and 2018 a number of vendors gained approval for systems to be sold in the U.S. and began to enter the market. Vendors such as Adani Medical Systems and Planmed Oy entered with 2D systems, and can be expected to follow soon with 3D permissions; and Fujifilm Medical gained approval for its 3D Aspire Cristallae system in 2017. These market entrants sell comparatively lower-cost solutions compared to the incumbents, with Fujifilm Medical in particular marketing itself as a low-cost competitor to the market leader, Hologic.
This rise in competitive pressure is set to contribute in part to the overall reduction of ASPs. To intensify this, 2018 saw Hologic respond by beginning sales of its "3D Performance" system, a lower cost DBT alternative to its 3Dimensions and Selenia Dimensions systems. The further diversification of 3D portfolios by competing vendors is expected to follow this.