The growth in demand for PHM technology has largely been the product of ACA implementation and the move to value-based care (VBC). Both have come under increasing pressure since the Trump administration came to power in 2017 with an agenda to reform the ACA. Coupled with the process barriers that moving to VBC presents, this has meant that healthcare providers in the U.S. have moved more slowly to VBC contracts than was widely expected.
Health Catalyst has navigated these headwinds well, as can be seen by its revenue growth in 2018. However, the challenge has been amplified this year as the Centers for Medicare and Medicaid Services (CMS) has changed provider payment structures of the Medicare Shared Savings Program (MSSP) via the introduction of the "Pathways to Success" rule. The rule effectively forces Accountable Care Organisations (ACOs) to take on downside risk contracts faster than previously dictated. ACOs tend to be first movers in the transition to VBC and so are a key customer for vendors such as Health Catalyst. The new MSSP payment models have resulted in a fall in the number of ACOs participating in MSSP programs in 2019, which has the potential to hit demand for PHM solutions.

Numed, a well established company in business since 1975 provides a wide range of service options including time & material service, PM only contracts, full service contracts, labor only contracts & system relocation. Call 800 96 Numed for more info.

However, for the remaining ACOs taking on more downside risk, it's even more important to put in place PHM tools to mitigate these risks. Therefore, this trend has some upside.
Signify Research has taken these factors into account in its latest North American PHM market forecasts. The CMS Pathway to Success rule is forecast to slow growth to some extent; however, the projection is that the market will still enjoy high single digit growth over the medium term.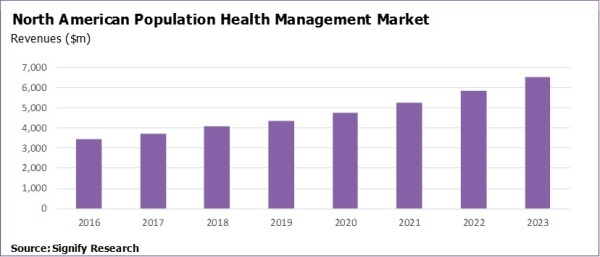 Final thoughts
Health Catalyst has proven that it can grow at a faster rate than the market average over recent years, consistently gaining PHM revenue share year-on-year in North America during the period 2015 to 2018. The IPO marks the next chapter in the company's development, and whilst it is positioned well to continue to grow revenues, it will find itself coming under increasing scrutiny as a publicly traded company. In order to see substantial increases in its share price over the medium term, it will need to demonstrate to the market that it can consistently make progress against the factors which will ultimately support it moving toward profitability, namely those outlined above. Early signs are that it is starting to make progress on these — the level of success it enjoys as a public company will hinge on this continuing.
About the author: Alex Green is company director and principal analyst at Signify Research Limited.
Back to HCB News