Finally, one of the most popular methods of cyber-criminals involves ransomware and malware. In May, it was reported that 40% of HDOs were attacked with WannaCry Ransomware over a six month period.
Today, there are still many healthcare organizations that are ill-equipped to effectively monitor, prevent and detect cyber threats. Some are, at times, totally unprepared. What's critical is having one solution in place that can effectively monitor all network traffic that's occurring in every device connected to an organization's network(s).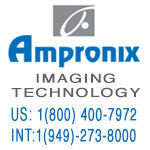 Special-Pricing Available on Medical Displays, Patient Monitors, Recorders, Printers, Media, Ultrasound Machines, and Cameras.This includes Top Brands such as SONY, BARCO, NDS, NEC, LG, EDAN, EIZO, ELO, FSN, PANASONIC, MITSUBISHI, OLYMPUS, & WIDE.

What's at risk?
The reality is, the more connected devices there are that live on the same network as a patient's medical data, the more opportunity available for cyber criminals to hack. Although IoT devices allow for closer monitoring, automated data delivery and real-time analysis, it's important to acknowledge all possible risks so that measures are taken to avert them. Today, patients are connected to devices such as digestible sensors, smart medical beds and blood glucose monitors, which are merely a few examples of the devices patients may encounter. The fact of the matter is, devices such as printers, computer accessories and even VoIP phones all present individual risks, and any of these common devices on the healthcare organization's network can become a point of entry for an attack.
To add to the possibilities of attack, this past June the U.S. Food and Drug Administration issued a warning about possible risk of hacking for some diabetes patients' insulin pumps, which are small computerized devices that deliver insulin therapy to patients in continuous doses or as a surge around mealtime. This is yet another example of both innovation from the cybercriminal expertise, and a call to action for security solutions to actively protect all patients' connected devices.
Does monitoring and mitigating threats need to be complex?
Matching cyber criminals' activities one-to-one with mitigation efforts is time-consuming and complex. Implementing a singular solution that monitors and protects all IoT devices — enterprise, clinical and medical — creates a more seamless security approach, where every device connected is automatically recognized, monitored and protected. Essentially, streamlining threat detection and prevention efforts within one solution helps HDOs minimize scrambling between dashboards to discover if a threat on the network exists, and ensures they're all being protected with the same quality standard. While the hospital works tirelessly to ensure the health and livelihood of each patient, putting an effective solution in place to ensure the workflow isn't interrupted is essential.