By Mehul Patel
Anyone who has either had cancer or is family or friend to a cancer survivor, knows all too well how vulnerable the disease can render the body, not to mention the fear and stress involved with a diagnosis and treatment.
So, given that, it is simply horrendous that so many cybersecurity attacks have been levied against healthcare institutions. For instance, patients of the Newark-based Medical Oncology Hematology Consultants (MOHC) recently began receiving notification letters of a breach that occurred a year before. Officials say that a cyberattack targeted an email account on June 7 or 8, 2018.
Adding to this, only a few weeks later, it was announced that another major healthcare breach occurred when Quest Diagnostics reported that nearly 12 million of its customers may have had personal, financial and medical information breached due to an issue with one of its vendors. All these attacks can only add yet another layer of terror for patients who must learn, often months later, that their private data has been compromised.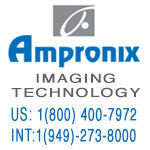 Special-Pricing Available on Medical Displays, Patient Monitors, Recorders, Printers, Media, Ultrasound Machines, and Cameras.This includes Top Brands such as SONY, BARCO, NDS, NEC, LG, EDAN, EIZO, ELO, FSN, PANASONIC, MITSUBISHI, OLYMPUS, & WIDE.

As the list of attacks against the healthcare industry continues to rise, cybercriminals will always target those organizations with the weakest defenses and the most valuable data. The fact is, there are few industries as dependent on personal data and information than healthcare; without patient records, and access to medical and network devices, a healthcare facility cannot operate — which makes securing data not just an IT function, but a lifesaving mandate.
Compounding the crisis, medical institutions often lack budget and IT staff to keep ahead of cyber threats, and as a result, are playing a perpetual game of catch-up. Another and often overlooked reason for the vulnerability of healthcare institutions, is the high number medical professionals using personal web mail accounts, which makes healthcare institutions ripe for phishing email attacks. While many healthcare organizations supply employees with education and sessions to learn how to detect a phishing or malicious email, even the most technologically sophisticated professionals can be tricked into allowing dangerous malware into the organization's network.
Why the healthcare industry needs zero trust internet
Today's security solutions have been playing with fire, with a "detect and protect" approach — using products that are all trying to determine what is "good versus bad." Firewalls block internet traffic based on whether something is identified as being a threat or not. While many of these solutions can easily understand what is or is not a threat if the threat has been identified, the main fault of this approach is that there are, literally, thousands of new malicious exploits revealed each day and it can take time to figure out which data are safe and what are not.