por
Lisa Chamoff
, Contributing Reporter | March 04, 2019
From the March 2019 issue of HealthCare Business News magazine
These ancillary services are a critical part of the effort to make the treatment more accessible for children and their families, the majority of whom need to travel for the treatment.
Access to proton therapy is a challenge for many children and their families," said Dr. Vinai Gondi, director of research and education at the Northwestern Medicine Chicago Proton Center and senior author of a retrospective study that showed that proton therapy treatment for pediatric brain tumor patients was associated with better neurocognitive outcomes when compared to X-ray radiation therapy, presented last year at the American Society for Radiation Oncology (ASTRO) Annual Meeting and the International Symposium on Pediatric Neuro-Oncology Annual Meeting.

Quest Imaging Solutions provides all major brands of surgical c-arms (new and refurbished) and carries a large inventory for purchase or rent. With over 20 years in the medical equipment business we can help you fulfill your equipment needs

Creating a community around the child's care is also helpful. Staff at the proton center volunteer at the Ronald McDonald House, cooking meals and participating in activities.
"These services came in after the proton center was constructed and after the pediatric program had been developed," Gondi said. "Our team launched a fairly significant campaign to raise money for the Ronald McDonald house. It's really paid dividends for the experience of children and their families."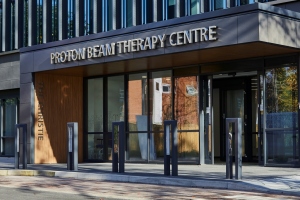 Schooling doctors on proton therapy
Before families even begin the process of traveling for treatment, access to proton therapy begins with education.
"There are a lot of physicians out there who are not aware of the advantages" of proton therapy, said Jan Timmer, director of proton solutions marketing at Varian. "We're eager to inform physicians with roundtables, and developing tools using AI to make it easier to create a treatment plan."
Education also includes reporting outcomes.
In May, the Pediatric Proton Consortium Registry (PPCR) reported that 1,854 patients had enrolled in the PPCR from October 2012 until September 2017.
"A large prospective population of children irradiated with proton therapy has reached a critical milestone to facilitate long-awaited clinical outcomes research in the modern era," read the conclusion of the report. "This is an important resource for investigators both in the consortium and for those who wish to access the data for academic research pursuits."