por
Lauren Dubinsky
, Senior Reporter | June 25, 2018
From the June 2018 issue of HealthCare Business News magazine
Exa also allows teleradiologists to customize their worklists, hanging protocols, relevant priors, report templates and report delivery options. When they log into Exa on their workstation, the studies on the worklist are sorted, based on their preference, and the appropriate report template and voice recognition software are opened automatically.
"When we were using the old system, I would get almost daily calls from the radiologists, complaining, making excuses and explaining why they are behind on the teleradiology readings," said Robinson. "Now, I don't get those calls, but about once a week, I do get a call from the teleradiologist on duty, thanking us for investing in them."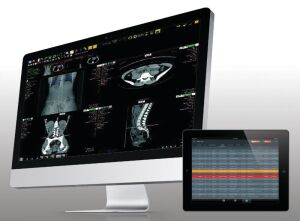 Numed, a well established company in business since 1975 provides a wide range of service options including time & material service, PM only contracts, full service contracts, labor only contracts & system relocation. Call 800 96 Numed for more info.

The communication conundrum
One of the limitations of teleradiology is a lack of face-to-face communication, which affects both the onsite radiologist and the patient. Fortunately, teleradiology providers have developed some unique ways of addressing that.
Argus attempts to overcome this communication hurdle by establishing close relationships with the facilities they cover. They do this by limiting the number of teleradiologists who are accountable for a given client provider.
"Rather than having a different radiologist every day, we try to have the same radiologist reading on the off hours so there is a relationship that gets established between the facility and our radiologists," said Moritz.
He added that customers he meets with at trade shows tell him that they feel as if they have known his teleradiologists for years, even though they have never seen their faces.
For women's imaging in particular, where there are often a lot of follow-up questions and sometimes follow-up exams, good communication is a critical component of the diagnostic process. For that subspecialty, vRad started offering "live diagnostics" for remote radiology practices about two years ago.
The vRad teleradiologists select one or two days per week and a four-hour window in the afternoon to video conference with the patient and onsite technician in real time.
"Women's imaging is very personal," said Thomas. "It's an environment that requires a lot more personal interaction with patients."
Will all radiology become teleradiology?