Robots you can swallow that scurry about in your body fixing things from the inside?
A science fiction dream that might someday come true, thanks to breakthrough research that has created non-toxic edible batteries that might one day power such tiny automated health care workers.
Story Continues Below Advertisement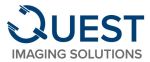 KenQuest provides all major brands of surgical c-arms (new and refurbished) and carries a large inventory for purchase or rent. With over 20 years in the medical equipment business we can help you fulfill your equipment needs

The batteries are made with melanin pigments, naturally found in the skin, hair and eyes, researchers reported this week at the 252nd National Meeting & Exposition of the American Chemical Society in Philadelphia.
"For decades, people have been envisioning that one day we would have edible electronic devices to diagnose or treat disease," Christopher Bettinger, Ph.D., said in a statement. "But if you want to take a device every day, you have to think about toxicity issues. That's when we have to think about biologically derived materials that could replace some of these things you might find in a RadioShack."
The team's initial challenge? "Understanding the right combination of electrode configuration and complementary cation pairs,"
he revealed to Digital Trends
. "If you use melanin the wrong way or use the wrong type of cation, you get a very different — often worse — level of performance in terms of both capacity and voltage. Only after understanding something about the fundamental function of melanin in the body and leveraging that knowledge appropriately could we design a battery that would work properly."
There are battery-operated ingestible cameras in use today as part of some endoscopic procedures, but they use toxic batteries and are designed for a single use and to pass through the body and be excreted not digested.
For everyday use, Bettinger noted, the risk of the battery failing or the device getting stuck in the body spewing toxic materials is just too great.
Likewise, implanted devices like pacemakers use toxic batteries, and these must be sequestered safely in the body.
To reduce possible harm from ingestible devices, Bettinger and his Carnegie Mellon University (CMU) team looked to compounds already in the body such as melanins. Since these actually bind with metallic ions, the researcher noted, "we thought, this is basically a battery."
Using melanin pigment at either terminal, the developers then used various electrode materials also found in the body, including: "manganese oxide and sodium titanium phosphate; and cations such as copper and iron, that the body uses for normal functioning."