por
Thomas Dworetzky
, Contributing Reporter | June 30, 2016
How about a high quality camera no larger than a grain of salt – one tiny enough to inject into the body with a syringe?
That futuristic vision of a new age in medical imaging has just taken a major step toward becoming reality thanks to new advances in 3-D printed micro- and nano-optics with complex lens designs, reported researchers at the 4th Physics Institute, Institute for Applied Optics (ITO), and Research Center SCoPE, University of Stuttgart, Germany.
"Our optical elements thus allow for a completely new generation of ultracompact optical elements for endoscopic instruments and miniaturized microscopes to be used in medical engineering — for live neuro-imaging in the brain, for example," they stated.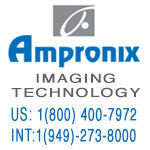 Special-Pricing Available on Medical Displays, Patient Monitors, Recorders, Printers, Media, Ultrasound Machines, and Cameras.This includes Top Brands such as SONY, BARCO, NDS, NEC, LG, EDAN, EIZO, ELO, FSN, PANASONIC, MITSUBISHI, OLYMPUS, & WIDE.

The compound lens is just 100 micrometers (0.1 millimetres or 0.004 inches) wide, and 120 micrometers with its casing.
The key benefit of the advance is that it allows for the use of multiple elements in a lens of a previously unachievable scale in order to correct for a variety of aberrations and distortions that typically degrade the quality of single-lens images. "We demonstrate that 3D direct laser writing is a suitable tool for fabricating complex multi-lens optical systems that show high optical performance and tremendous compactness,"
wrote the authors
, Timo Gissibl, Simon Thiele, Alois Herkommer and Harald Giessen in
Nature Photonics
.
The authors noted that the size difference – right at the boundary between micro- and nano-sized lenses "is so great that it represents a paradigm shift for micro-optics."
In addition, the production process is so fast that it "takes only a few hours from lens design through production and testing to the final working optical device."
The applications in medicine are equally paradigm-shifting. "Endoscopic applications will allow for noninvasive and non-destructive examination of small objects in the medical as well as the industrial sector, and serve as a hallmark application of this new technology," they observed.
In one example, they showed an optical fiber equipped with one of their lenses, suitable for imaging inside an organ or cavity in the human body. It was of a size that would allow it to be injected using a standard 27 gauge cannula, meaning that "with the fiber-coupled, printed, compound microscope objective lens, the insertion can be easily accomplished."
The fabrication takes place using a commercially available femtosecond laser – with less than 100 femtoseconds of pulse durations. It is focused with a scanner on a liquid photoresist, under a microscope. The polymer absorbs the laser light and then hardens into an optical element – with sub-micrometer accuracy.
This process permits the manufacture of spherical lenses as well as paraboloids and aspheres. This variety of shapes is what permits creation of multi-lens optics that correct for aberrations.
Anti-reflecting coating is also used to cut down on stray light, boosting both contrast and efficiency of the image.