Hospitals relied heavily on patient monitors during the COVID-19 pandemic.
The recent product releases in this sector have responded to the needs brought to light over the course of 2020 and focus closely on flexible deployment of monitoring equipment, seamless data transfer and telehealth capabilities.
Here's a look at what's new from several manufacturers.
GE Healthcare
Last May, GE Healthcare saw the U.S. release of its CARESCAPE ONE acquisition device and transport monitor. The device, which had been released globally in 2019, acquires patient signals when both docked into the core monitoring platform and during patient transport.
The monitor includes the company's FlexAcuity solution, which allows for flexibility and data continuity across multiple care areas. This was especially useful during the COVID-19 pandemic, said Neal Sandy, general manager for monitoring solutions at GE Healthcare.
"Traditionally, patients are monitored based on their location in hospital, not their condition," Sandy said. "Acquisition capabilities were preconfigured to a monitor or a transport device as opposed to being configurable to a patient. There was no room in the ICU, but patients needed ICU-type care. Our solution allowed our customers to flex up."
Getinge
In April 2020, Getinge released its Torin OR management solution. Using what's called Torin OptimalQ technology, the solution connects to the EMR. As changes happen, Torin lets other systems — including the sterile processing and billing departments, as well as referring physicians — know about them.
"All of these things tie together," said Todd Brigance, director of sales and operations for integrated workflow solutions at Getinge. "It's the link that connects all of these systems."
The solution has helped hospitals and surgery centers manage the surgical backlog due to COVID-19, Brigance said.
"This is a very important piece for hospitals today," Brigance said. It provides real-time data across system, so hospitals can do more with less and eliminate data silos."
Infinium Medical
Infinium Medical is awaiting FDA approval on its Cleo Plus, a vital signs monitor designed for physician's offices, with telehealth capabilities.
The device does spot-check monitoring of blood pressure, SpO2, glucose, weight, temperature spirometry, and EKG, and connects to a cloud server.
"It allows the physician to do a complete diagnostic check of the patient with a single device, said Suleyman Bilgutay, managing partner at Infinium Medical. "Normally they'd have to use five or six different tools for that."
Bilgutay said that that the doctor could also send the monitor home with the patient, and could also bill insurance for the spot checks.
The company has had the product in development for the last five years, the COVID-19 pandemic has advanced telehealth and remote patient monitoring.
"COVID-19 has somewhat accelerated the remote care industry, but we've had this in development for four or five years now," Bilgutay said.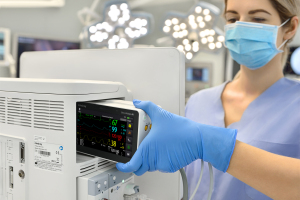 Mindray North America
In April 2019, Mindray released its BeneVision N-Series multi-parameter monitors for hospital-wide monitoring use.
The product provides electrocardiogram (ECG) monitoring, pulse oximetry, invasive and noninvasive blood pressure, temperature and respiration monitoring at the bedside and during transport, with the ability for other parameters, such as CO2, cardiac output or continuous cardiac output, to be added as needed.
The system offers a 5.5-inch touchscreen monitor/module; other bedside monitor sizes include 12-inch, 15-inch and 18.5-inch, as well as 19-inch and 22-inch flat-panel monitors.
"Using the BeneVision N1 monitor/module, this patient monitoring solution can deliver the same level of care on transport as provided at the bedside with no cable, setting or screen changes necessary," said Beth Aquaviva, senior marketing manager for Patient Monitoring and Life Support at Mindray.
"The BeneVision N1 Monitor/Module provides gap-free monitoring and collects patient data at the point of care, which is sent to the EMR wirelessly, or it can be downloaded to the bedside monitor upon return from transport, with no loss of data on transport," Aquaviva said.
The BeneVision N-Series monitors have been widely accepted since launch and have surpassed those of the system's predecessors, the Passport 12m/17m and T1 transport monitor. N-Series adapts to a hospital's environment, allowing choice of acuity level and the ability to disperse the BeneVision monitors throughout the hospital. The BeneVision platform provides the flexibility needed to meet a hospital's ever-changing patient care needs, especially during the COVID-19 pandemic, Aquaviva said.
"The N-Series eases clinical workflow at bedside and during patient transport by providing a comprehensive monitoring platform that is easy to use and delivers patient data where and when it's needed," Aquaviva said. "This is highly valued by both the hospital and the clinical team."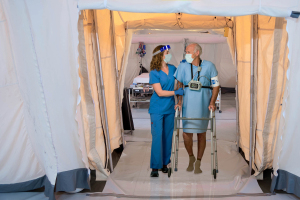 Nihon Kohden
Last September, Nihon Kohden responded to the COVID-19 surge at hospitals with a new solution called NK-HealthProtect Wireless Surge Solution.
The product, which comes with eight Life Scope G3 (GZ-140) battery-operated, wearable monitors and a laptop loaded with the company's Prefense Early Detection and Notification System, was designed to be deployed quickly — within two weeks — and allow hospitals of any size to scale up monitoring capabilities more easily.
"The market needed a solution that was easy to deploy and quick to setup, Nihon Kohden met this need with a Wireless Surge Solution, which can be deployed in a matter of days, as opposed to the usually a 90-day-plus process" to set up a monitoring system, said Elias Bitar, director of patient monitoring marketing and business Development for Nihon Kohden.
Previously, in March 2020, the company released the NK-HiQ Waveform Server Extension. It provides output of the raw waveforms — vital signs and alarms — that the system generates and gives the hospitals more flexibility, allowing them to send the information to any endpoint and enable remote monitoring.
"Hospitals are looking for easy and cost-effective ways to get access and use patient monitoring data and the NK-HiQ Waveform Server Extension enables this," Bitar said.
This past January, Nihon Kohden released its ViTrac remote viewing application on Windows 10. ViTrac allows facilities to visualize the information from patient monitoring systems, enabling different tele-monitoring applications
Philips
Last June, Philips received Emergency Use Authorization from the FDA for use of its IntelliVue Patient Monitors MX750/MX850, IntelliVue 4-Slot Module Rack FMX-4 and IntelliVue Active Displays AD75/AD85 during the COVID-19 pandemic.
The solutions allowed for critical information on hospitalized COVID-19 patients to be sent remotely to minimize staff exposure to the virus and save on the use of PPE.
Dr. Peter Ziese, business leader for Monitoring and Analytics at Philips, said the devices provided a "safety net" to overcrowded hospitals.
The IntelliVue Patient Monitors MX750/MX850 and IntelliVue Active Displays AD75/AD85 offer advanced functionality and clinical decision support capabilities, such as Philips' IntelliVue Horizon Trends information view, which shows deviations in vital signs, such as CO2 and heart rate, allowing timely intervention. The MX750 and MX850 also include enhancements to monitor and assess clinical and network device performance and additional functionalities to strengthen cybersecurity.
Also last year, Philips released the wireless Avalon CL Fetal and Maternal Pod and Patch, an obstetrics monitoring solution to support pregnant patients during the pandemic.
Similarly, the company received emergency use authorization in Europe for its Healthdot wearable sensor, which allows patients to be monitored outside of the hospital. The device was tested on 50 Dutch patients when hospitals were at capacity. By using the Healthdot, they found that 45 patients could stay at home, preventing 90% of hospital admissions.
"This lets hospitals admit only the patients that need to be admitted," Dr. Ziese said. "It can also help with discharge. I think it's something that's going to stay after the pandemic."
Earlier this year, Philips announced that it was acquiring Capsule Technologies Inc., which provides medical device integration and data technologies for hospitals and healthcare organizations. Capsule's Medical Device Information Platform, which is composed of device integration, vital signs monitoring and clinical surveillance services, connects almost all existing medical devices and EMRs in hospitals through a vendor-neutral approach, according to Philips.
"Caregivers have far more actionable insights," Ziese said. ""For example, if oxygen saturation is dropping, they can see if there's a disconnection of the ventilator. In 99% of cases, you have the cause. This integration of real-time information will help improve therapy and patient safety."
Also this year, Philips completed the acquisition of BioTelemetry Inc., which provides remote cardiac diagnostics and monitoring. Dr. Ziese said the acquisition complements Philips' existing leading in-hospital monitoring portfolio with an out-of-hospital offering.