From valve replacements to coronary low-risk angioplasty, catheterization labs have become the center of many minimally invasive procedures for the heart.
Once just the room where heart trouble was diagnosed, cath labs of today see a larger range of patients, with the complexity of their conditions only rising. Dr. Zagum Bhatti, a vascular and interventional radiologist at Modern Vascular, which operates a number of these sites in the U.S., told HCB News, that patients prefer when the cath lab is in outpatient settings or ambulatory surgical centers (ASC) versus the hospital.
"You can now undergo a cutting-edge, minimally invasive endovascular procedure in an outpatient lab and be able to go home to recover and be with your family the same day," he said, adding that "more importantly, they are not exposed to other illnesses that are present in a hospital setting."
Further, the continuing COVID-19 pandemic makes patients even more inclined to seek care outside of the hospital, out of fear of contracting the virus. It is changes like these that are forcing cardiologists and radiologists to question what role the cath lab will play in the future.
A one-stop shop
The original cath lab, 30-40 years ago, diagnosed disease and referred patients to open heart surgeries that were followed by a month-long recovery. Today, percutaneous coronary intervention, innovations like TAVR (transcatheter aortic valve replacement), mitral valve clips, atherectomy for calcification and more recently, intravascular lithotripsy, have expanded treatment options for complex coronary, valvular and structural heart diseases in the lab itself.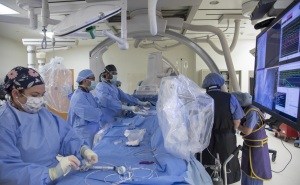 "The equipment has become smaller, lower profile, and easier to use," said Dr. Anna Bortnick, attending interventional cardiologist and program director of the interventional cardiology fellowship at Montefiore Health System. "Image guidance in coronary arteries using live intravascular ultrasound or optical coherence tomography (OCT), CT scans and echocardiography for preplanning of valve procedures, allows interventional cardiologists to integrate more detailed information in their treatment plan for patients. The goal is to achieve better results and discharge patients home with faster recovery."
These advancements mean conditions that once required open surgery are now treatable with minimally invasive procedures, where patients can go home the same day.
"We don't have to cut a patient open or stitch them up, so there's a big trend to doing everything less invasive," Dr. Shyam Sathanandam, director of the cardiac catheterization laboratory at Le Bonheur Children's Hospital in Memphis, told HCB News. "As a result, the number of procedures performed in current cath labs throughout the country are going up, so more and more hospitals are building new cath labs. Even existing hospitals that have cath labs are adding more."
And while regulatory changes have been a long-standing and difficult to overcome barrier, they have finally caught up to the science and permit ASC cath labs to grow in the therapeutic space, says Dr. Rick Snyder, an interventional cardiologist and president of HeartPlace, a cardiology and cath lab practice in Dallas. "Private payers started to pay for therapeutic procedures first years ago but Medicare was very resistant. Medicare did not even cover PCI (Percutaneous coronary intervention) until 2020 for the first time."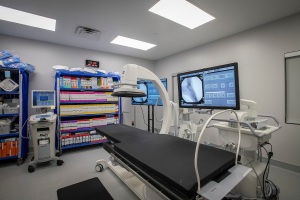 Heading out of the hospital
Most patients want to avoid hospitals as much as possible, instead preferring ambulatory and outpatient settings, where they can typically receive the care they need at a lower price and closer to home.
"Especially in the COVID era, patients do not want to go to the hospital to have procedures performed. If procedures can be accomplished in the ambulatory setting, you can more carefully control that only COVID negative patients come through the doors; that's not true in a hospital," said Dr. J. Jeffrey Marshall, chief of the Northside Cardiovascular Institute. "In the future, due to technology like coronary CTA/FFRCT, the diagnostic procedures will and are starting to move out of the hospital and into the ambulatory surgical settings. Low-risk therapeutic procedures may stay in the ambulatory surgery centers, with only higher-risk therapeutic procedures being performed in the hospital."
Support from professional societies and experts in the field has paved the way for procedures to be performed in outpatient settings, including low-risk coronary angioplasty. Many payors and self-insured employers also prefer the affordability of outpatient and ambulatory labs, compared to ones in hospitals. Still, some patients, like children, are still better off undergoing cath lab exams and operations in a hospital.
"They need the backup of cardiac surgery and cardiac anesthesia and other subspecialists that an ambulatory setting may not have," Sathanandam said. "Some cath labs for adults have transitioned but I would still say that's a minority. You need an infrastructure that a tertiary hospital will provide, especially if the patients are very complex."
Wearing multiple hats
Most modern cath labs are hybrids that can operate as ORs to perform both open-heart surgeries and cardiac catheterization, according to Sathanandam. "Some of these patients that should have had open-heart surgery are now undergoing a minimally invasive procedure in the cath lab. But obviously if they need to have open-heart surgery during their minimally invasive procedure for some reason, you need to be able to do it."
Other hybrids are beginning to combine peripheral procedures, traditionally found in ambulatory settings, with coronary ones that are just beginning to be performed in labs, according to Marshall. In addition to fluoroscopy, modern-day cath labs are equipped to perform intravascular imaging and intravascular physiology. Some also have integrated CT imaging to guide procedures and newer left ventricular support devices that make them well-suited to care for critically ill patients.
Bortnick's team at Montefiore used these technologies to transform their own cath lab into a hybrid ICU that could care for both heart and COVID-19 patients at the height of the pandemic. "We take care of the highest number of heart attack patients in all of the boroughs of New York City," said Bortnick. "We organized ourselves to not only take care of COVID patients, but to keep critical cath lab services available for people coming in with a heart attack or chest pain."
A future of evolution
Better dosing and radiation reduction technologies have decreased risk for overexposure by ten times compared to five years ago. Sathanandam sees this trend continuing. "Five years from now, I think X-rays will be replaced with other modalities in imaging, especially MR, which has no radiation," he said. "I think, eventually, [cath labs] will perform procedures with MR guidance rather than X-ray guidance."
On the therapeutic side, Bortnick is already seeing new devices that she believes will further the number and complexity of conditions that can be addressed in the cath lab. "There are new innovations in mitral and tricuspid valve technologies for valve repair and replacement. There will be an array of devices to support failing hearts. Those are areas I already see blossoming."
Marshall says all these factors will be the catalyst for the cath lab's biggest change: its transition from a diagnostic unit to a therapeutic place. "One of the worst things that inadvertently happens to patients is peri-procedural bleeding. With new access techniques, like radial access, you're much less likely to have a bleeding complication. These techniques make it safer to do outpatient procedures with same-day discharge."
Cath labs will also grow outside the hospital in more outpatient and ambulatory settings that will be well equipped to handle low-risk and some complex conditions. "As technologies and our techniques become more refined, less invasive endovascular procedures will continue to replace traditional open surgeries," said Modern Vascular's Bhatti. "Considering the reimbursement, enhanced convenience for both patients and providers, and access to the same, and sometimes better, tools when compared to the hospital, I see this trend of providing vascular care in an outpatient setting continuing."
Ultimately, the modern-day cath lab is in several transitions that are expected to change the options and locations in which cardiac trouble can be diagnosed and treated, says Snyder. "We are kinda at the same stage where colonoscopy was 10-15 years ago when they were mostly done in the hospital outpatient department setting. Now most are done in an ASC."