While the magnet is the heart of an MR scanner, the coils are the veins that keep the blood flowing.
We asked coil manufacturers and independent service organizations to provide their tips to keep coils running smoothly and extending their life.
Handle with care
"Many coils are bulky, heavy and fragile," said Ray McClellan, president of MRI Technical Services Inc. "Lifting [or] moving them by just grabbing any available handle can cause physical damage."
Heavy coils should be lifted from the bottom of the coil, said Harry Klijn, senior product manager for MRI at Philips, and two-part coils — a head coil, for example — should never be lifted from the top portion of the coil.
Also, take care in how cables are positioned.
"Many coils come in with internally broken wires in the cables from repeatedly being bent too sharply in the same place," McClellan said. "Try to position cables in the least stressful position available in accordance with the OEM safety recommendations."
Ted Lucidi, a technical and clinical specialist for Innovatus Imaging, notes that flex coils should always be cradled from the bottom, gripped at the center housing or carried by the designated handle.
"They should never be carried by the flexible portion, as there are sensitive components contained within that can be damaged by doing so," Lucidi said.
When transporting coils between rooms, Lucidi highly recommends using a cart.
Follow OEM guidelines
"One of the most effective ways to increase longevity is ensure that best-practices and OEM guidelines are being followed," Lucidi said.
Lucidi recommends that service engineers perform a "care and handling assessment" by assessing when and how often the coils are visually inspected by the technologists, and how they are stored, transported and cleaned.
"Even go as far as to observe how the coil's cables are routed during setup and how the patient is positioned and re-positioned," Lucidi said. "This can be easily performed without anyone's notice during routine visits to the department."
Follow up with managers by requesting 15 to 30 minutes during a routine department meeting to review findings, and spend time discussing best practices, Lucidi said. Provide, as well as solicit, ideas for improvement to reduce damage.
Store properly
Klijn recommends storing coils in a designated coil caddy or on shelves so that cables are looped, not bent, and not hanging free from the shelf, with a dedicated place on a shelf or coil caddy so that they aren't stacked on top of each other.
Flat coils, such as the torso, anterior, and GP flex coils, should not be bent.
Storage caddies or shelves should be properly labeled so operators can find and replace coils to their storage locations quickly.
Use properly during exams
Prevent patients from touching the contacts of separable coils, such as knee coils by connecting the coil to the tabletop after the patient has been positioned, Klijn said. Always close the coil before connecting it to the system and always disconnect the coil from the system before opening the coil.
Technologists should also refer to markings to align the pins before plugging the connector into the socket, Klijn said. Insert the coil connector vertically to the table socket and never angle the connectors, as this may damage the pins.
"Pay attention to cable routing to avoid damage when the tabletop moves," Klijn said.
For multi-piece coils, such as a head coil, the anterior portion should always be removed by pulling straight up, Lucidi said.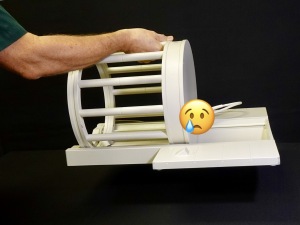 "If the anterior is removed at an angle, the fragile connections between the various sections could easily become damaged or undergo premature wear," Lucidi said.
Wes Solmos, account manager MRICoilrepair.com, notes that flex coils should be flexed in the correct direction, and should not be flexed past the OEM designed degree of flex.
Keep on top of issues
"If there are exposed wires, do not hide it with tape," Solmos said. "This needs to be addressed by our repair lab immediately. Even though there may not be any immediate electrical performance issues, exposed wires will lead to larger problems and also present a safety hazard for the patient."
Staff should also regularly inspect the coil and mating socket for any bent or broken pins, Solmos said. Coils should be regularly cleaned to avoid staining from fluids and skin oils. Inspect coils for any fluid that may have entered into electrical sections.
When cleaning a coil, only use OEM-approved cleaners and disinfectants, Lucidi said. If these are unavailable, it may be safe to clean the coil with a cloth that has been dampened in a solution of 10 percent bleach and 90 percent tap water, or 30 percent isopropyl alcohol and 70 percent tap water.
"It's also important to not submerge, pour or spray a cleaning agent directly on to the coil as internal circuitry could be damaged," Lucidi said. "Using an unapproved cleaning agent or using an OEM-approved cleaning agent improperly can void the warranty as well as disqualify coverage under a service contract."
If coils need to be sent out for repair, Solmos recommends taking the extra time to package them securely before they are shipped.
"Make sure to leave 2 to 3 inches of packaging material between the coil and the inner wall of the box," Solmos said. "Do not wrap the cables too tightly, as this may lead to damage of the strain relief."
Lucidi recommends being sure that your provider is able to replace worn and damaged cables, versus splicing or repairing them.
"It will result in like-new performance and offer the longevity of a new coil," Lucidi said. "Consider the slogan, 'Pay me now or pay me later.' Better to address all of the failures at one time versus sending a product in for repair time and time again."
Make sure to fully vet service companies and ensure the provider is ISO 13485:2016 certified specifically for MRI coil repair, Lucidi said.
"It can't be stressed enough that partnering with a qualified repair provider is another key to longevity and sustainable performance," Lucidi said. "Perform a thorough analysis or vendor qualification of potential MRI coil repair providers, as the third-party repair industry is currently unregulated and there is no standard of quality amongst providers. Insist on a copy of the provider's current certificate and ensure that the scope of service includes MRI coil repair and not just MRI service. Assess the experience of the provider — their history, capabilities, approach to repair — holistic or quick-fix — loaner availability, testing processes, warranty periods and warranty rates. Cost should be one of the lower-ranked qualifiers."