Around 34 million echocardiograms were performed in the U.S. alone in 2017, with volume estimated to increase by about 6 percent annually, according to Dr. Steven B. Feinstein, professor of medicine in the division of cardiology at Rush University Medical Center in Chicago.
"The ultrasound field is growing quickly – with really elegant systems as well as smaller handheld ones that can be used in a variety of settings, and with price points from $2,000 to $200,000," he told HCB News. "Ultrasound is used in medical schools to teach students. It's used in the field of trauma and emergency rooms and in lieu of MR and CT in certain clinical scenarios. Ultrasound is truly the frontline for diagnosing cardiovascular issues as well as diseases, tumors and abnormalities throughout the body."
But producing an accurate echocardiogram is a challenge compounded by a variety of factors, from the patient's physical attributes, to the technician's skill and equipment, to the experience of the interpreting doctor. These variables all affect the ability of clinicians to accurately diagnose and treat their patients.
To address this challenge, clinicianslike Dr. Martin Goldman are taking the time to test and validate developing AI and pattern recognition technologies to ensure they are capable of more objectively interpreting and quantifying echocardiograms.
"The same echocardiogram completed by different sonographers and on different equipment may not look like the same final end product. And when it's delivered to me, as the interpreting doctor, the echo is subject to my interpretation based on my knowledge and experience, which varies with each physician," said Goldman, who is the associate chief in cardiology and program director at Mount Sinai Heart of the Icahn School of Medicine at Mount Sinai Hospital. "AI can look at a scan, and based upon pattern recognition of several hundred thousand scans, say that the image shows this or that."
AI is one of many assets that providers in cardiac ultrasound are embracing, along with various other methods of enhanced image quality, automated measurements and 3D visualization. But choosing a system goes beyond just the capabilities it has to offer. It requires an understanding of how each type operates and best meets the needs of a facility's medical environment, workflow, and most importantly, its patients.
An expanding ultrasound market
Premium cardiac ultrasound systems are designed solely for assessing cardiac conditions. In addition to possessing specially made transducers for echocardiographic exams, these high-end devices (ranging in cost from $100,000-$200,000) offer a range of advanced features, from Color Doppler to dual 2D and 3D visualization to AI-powered automation.
Mid- and lower-end systems, ($40,000-$50,000) typically offer traditional ultrasound capabilities such as Mo, 2D and Doppler. Usually a mobile platform with wheels, many are often used in point-of-care settings such as the ICU, emergency room or for surgery.
An emerging, and significantly lower-cost family of ultrasound systems is point-of-care handhelds. These highly portable solutions range in size from that of a laptop down to a smartphone. These systems are valuable in a range of settings both in and outside the hospital, from sporting arenas to war-torn battlefields, and can cost a couple of thousand dollars.
"Butterfly iQ's handheld system makes ultrasound as accessible as a stethoscope," said Dr. John Martin, chief medical officer for Butterfly Network, as he discussed the company's single probe, whole-body ultrasound system, which he said is the first of its kind available for under $2,000. "These handheld systems can help lower healthcare costs and save time in diagnosing and treating patients. For example, patients often have to wait for post operative exams ordered by cardiologists thus delaying discharge, sometimes overnight."
Other handhelds ultrasound manufacturers include Philips, GE Healthcare and Clarius, among others. While growing in popularity, it should be noted that handhelds are not meant to replace more sophisticated ultrasound systems, but act as adjunct devices that provide care in situations where it is needed immediately, and to reduce the workloads of higher-end systems.
"Of course, handheld devices do not have the same capabilities as higher-end ones in terms of computer power, image processing, and image quality that are required for a full and comprehensive echo exam," said Hila Goldman-Aslan, CEO of DiA Imaging Analysis. Her company offers LVivo EF, a cardiac ultrasound solution that measures ejection fraction and is available with the recently-launched GE Healthcare Vscan Extend handheld mobile ultrasound.
"However, the handheld devices are the perfect fit for an initial assessment of the patient's heart condition, for screening, and for supporting the decision of what the next step is," she added. "For instance, DiA tools provide an objective AI-based cardiac ultrasound analysis, and allow quick and easy-to-use auto analysis of cardiac function abnormalities."
Necessaries and nice-to-haves
At Rush University Medical Center, the decision to invest in a premium Canon ultrasound system came down to one quality in particular: 3D visualization. "I have been following 3D imaging, which includes strain imaging and contrast ultrasound, for years," said Feinstein. "I've studied Canon's preclinical work in 3D, and appreciate its advances in 3D cardiac transthoracic imaging."
Knowing what you want is crucial in the ultrasound market.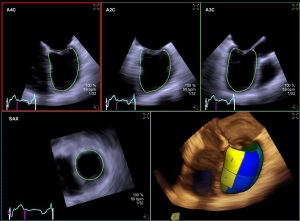 "Cardiologists are looking for ultrasound systems that fit their specific needs, and there are a variety of platforms that offer different levels of features," said Connie Casey, marketing manager for cardiovascular ultrasound at Hitachi Healthcare America. "With that said, any level should offer good image quality, be easy to use, have good workflow and offer any available applications that may be required for the provider's specific needs."
Above all else, experts agree that good image quality should be the top priority when entering the cardiac ultrasound market. In relation to this, many say that protocols and automated measurements for speeding up the rate of capture for images are also essential.
"A typical cardiac ultrasound exam is going to be around 100 images and clips of the beating heart. With that, there are many measurements," said Michael Elroy, senior manager, solutions marketing for ultrasound at Canon Medical Systems USA. "Protocols to accelerate updating from view-to-view in terms of image capture are helpful and measurements that can be made automatically will help speed up the exam because there are so many images to be captured."
Other value-added specs might include high-frame rate for good resolution, high penetration, 3D imaging, the wireless transmission of patient data to systems, and the ability to connect patients to EEG, among others.
But figuring out which extra features are needed in a solution depends on the environment and workflow of cardiologists and clinicians. Fortunately, as technology advances, greater capabilities tend to trickle down into lower cost systems.
Many envision that clinicians, particularly those using handheld or lower- and mid-range systems, will soon be able to use ultrasound to image the heart without the dedicated training required today. This is where AI comes into play.
"The expectations are very much related to workflow. Clinicians want the system helping them do things like measurements and to help them through the procedure," said Alexandra Gonçalves, MD, senior medical director for cardiovascular ultrasound at Philips. "The heart is a very intricate organ and moves, adding a lot of complexity. For instance, although the recommended methodology from the international guidelines is to use 3D for the volume quantification of the heart chambers, globally, this recommendation is not so widely followed because it used to require expertise. Examples such as Philips' HeartModel show AI is helping to minimize the training the person needs to have in order to acquire the image and perform the interpretation at the highest standards."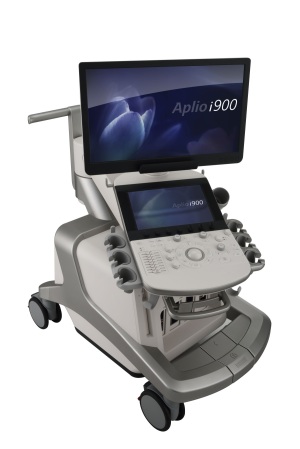 Echoing this sentiment is Al Lojewski, general manager for cardiovascular ultrasound at GE, who stressed that AI is intended to support, not replace, the physician.
"Why not have the ultrasound machine do those measurements automatically for you with autotracing or automeasuring," he said. "We can then be presented with the information and measurements compiled by the machine, and say 'Yes, I agree' or 'No' and make adjustments. It makes things more consistent, speeds up exams and allows physicians to spend more time with their patients."
Reducing variability through smart software
The need for specialized training around cardiac ultrasound is just one challenge that affects the ability of clinicians to provide quality care to patients. The other is the way in which scans are interpreted, with different observers viewing the same scan and producing different conclusions in what is called interobserver variability. Here, AI is also expected to make a big impact.
"If you have software that makes quantification of echocardiac uniform, it doesn't matter whether someone in South Dakota reads it or someone in The Netherlands does," said Mount Sinai's Goldman. "As long as the quantification is accurate, that improves standardization and the overall reputation of echo."
The shift toward quantitative measurements and analysis is already starting to take root, according to Marti McCulloch, cardiology segment director for Siemens Healthineers Ultrasound, with patients being treated based on the quantitative analysis now in reports.
"In the past, physicians would just look at an echo ultrasound study and say mild, moderate or severe. That's very subjective to the individual that's doing the report, as well as the referring physicians or individual getting the report," she said. "Now, the image quality is better and the method for doing the measurements is better and more streamlined. It really comes down to guidelines that are promoted by different societies and associations."
What the future holds
From automated measurements to dual 2D and 3D visualization, cardiac ultrasound continues to give rise to new techniques and capabilities. Among these is the introduction of intracardiac 3D, imaging inside of the heart.
"It's an ultrasound that sits inside of the heart as it provides guidance during interventional procedures," said McCulloch. "It's imaging inside the heart with something that's maybe the size of a piece of spaghetti."
She adds that the aim in further developing this technology falls in line with the shift from fee- to value-based care, with clinicians searching for ways to diagnose and treat conditions as quickly and efficiently as possible.
"The whole idea is to do just one test that answers the clinical questions, rather than three or four. If you have a good ultrasound system with great image quality that can answer the clinical question, then you don't need other downstream testing, which is not cost-effective."
Another promising frontier is the development of dual modalities, such as merging fluoroscopy with ultrasound in the cath lab.
"This technology includes AI features which help clinicians see the overall spectrum of what fluoroscopy can provide and what ultrasound can provide in one single stream," said Dr. Gonçalves, adding that "it's one of the trends that has been pushing ultrasound further because of the new ways of treating structural heart disease without open-heart surgery."
The role of ultrasound in surgery is also expected to grow, particularly with the use of 3D visualization. One procedure that could be enhanced through these techniques, according to McElroy, will be mitral valve replacement.
"Device manufacturers are working to make these devices more visible through ultrasound, making it more and more of a tool in procedures, such as for guiding structural heart repair," he said. "A major benefit to that is the reduction in the amount of radiation that a patient would receive under fluoroscopy."