After performing 6,000 prostatectomies, Dr. Vipul Patel has more or less become one with his robot. No, he hasn't been assimilated -- he's simply the most experienced robotic surgeon in the world. For the last five years, Dr. Patel has sat behind a console at the Global Robotics Institute at Florida Hospital, directing the multiple "arms" of surgical robots as they slip into patients and perform minimally invasive surgery. When he started his career 10 years ago, robots were only just starting to arrive in operating rooms. Today, robots are everywhere in health care: 80 to 90 percent of prostatectomies are done through robot-assisted surgery, and the $2.4 billion medical robot industry is projected to be worth $8.5 billion by 2018.
"It's not what we were expecting ten years ago," says Patel. The Global Robotics Institute now hosts a total of 12 surgical robots, eight of which are used for surgical training.
Robots have made their way into other operating rooms, too, expanding from urology to gynecology, general surgery, cardiology, spine surgery and even neurology. Patients and surgeons alike enjoy the benefits the robots bring, and independent studies on their clinical value are finally beginning to appear, adding to the debate on whether they're worth their considerable price tags.
The medical robot army grows
Intuitive Surgical, the company that originally received FDA clearance for robotic surgery back in 2000, continues to lead the industry, with more than 2,400 installs to date. In its standard da Vinci robotic surgery system, the surgeon sits behind a console equipped with an image viewer providing a video feed and hand and foot controls for directing four robotic arms. The precision of the arms allows for carefully directed minimally invasive surgery, during which only a few keyhole-sized incisions are made in the patient. Like non-robotic minimally invasive surgery, the surgery tends to involve less blood, fewer post-operative complications and a quicker recovery time.
The FDA approved the latest da Vinci update, the "Single-Site" system for gall bladder surgery, in December 2011. It's an add-on to the da Vinci robot that allows the robot to bring all of the instruments in through the navel, making only one incision. The system seeks to reduce the difficulty of performing single site laparoscopic surgery.
"In traditional laparoscopy when you move your hand left, the instrument pivots at the skin surface, and the tip of instrument moves right, and so you already have to re-map your head," says Catherine Mohr, director of medical research at Intuitive Surgical. "In single site laparoscopy you have the added difficulty of crossing the instruments, so your right hand is controlling your left instrument. In da Vinci single site, the motion of the hand and the instrument are identical, which keeps it 'intuitive.'"
As Intuitive Surgical continues to build on its product, in the last couple of years, other robotic surgery companies have appeared on the scene for the first time.
One company, Corindus, currently has 10 systems in clinical trials around the country being used for the placement of catheters, guide wires, balloons and stents in cardiology procedures. Studies have found that having a more accurate placement of a stent reduces the risk of complications, says David M. Handler, president and CEO of Corindus.
Mazor Robotics, another newcomer to the robotics scene, has been purveying its Renaissance robotic technology for spinal surgery since its patent was approved in 2011. The company has now been cleared to offer robots for brain surgery as well.
Besides minimally invasive surgery, robots have also been appropriated for radiosurgery. The company Accuray uses robots originally built for car manufacturing to mount a linear accelerator in its CyberKnife system, first FDA cleared in 2001. That set-up allows it to approach the patient from any angle rather than just arcing over the patient as in conventional accelerators, making for even dose distribution and direct radiation.
"The machine basically does all the work," says Dwight E. Heron, MD, professor and vice chairman of clinical affairs in the department of radiation oncology at the University of Pittsburgh School of Medicine. His facility installed the second ever CyberKnife system.
The company released the latest version of the CyberKnife, the M6, at ASTRO 2012. The treatment is used for brain and spinal tumors as well as for lung and prostate cancer. It's especially effective for patients whose cancer was caught early, as it does not require an incision and takes no recovery time for most patients.
"I was playing golf after my surgery," says Michael Uhrich, a retired technology teacher from New Jersey who was treated for prostate cancer. Besides the quick recovery, the thought of being treated by a robot was actually a comfort to him. "I knew it would be more accurate than someone's hand and eye," he says.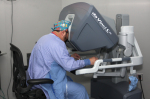 Tough training
Robots make life easier, but it takes some time to get used to them – so much time, in fact, that the robotic surgery learning curve dissuades some surgeons from getting started. Surgeons like Patel may perform prostatectomies daily, but most other surgeons only perform eight or so in a year and fewer than 100 in an entire career. That's not much time to become accustomed to an entirely new technique.
"When I look back at when we started in 2004, it was really kind of a gut check to say I'm going to immerse myself in this, and I'm going to provide this as a primary therapy and put aside what I was doing in the past," says John Valvo MD, division chief of robotics at Rochester General Health System.
There isn't a standard for robotic surgery training, but by using a grant from the U.S. government, Patel's team is developing a list of fundamental tasks that any surgeon has to pass in order to perform robotic surgery. The Global Robotics Institute works with a virtual reality company called Mimic to recreate the experience of performing robotic surgery so physicians have plenty of time to practice before getting behind the console to perform a procedure.
"Surgery is often known as see one, do one, teach one, which obviously doesn't make sense for the surgeon or the patient," says Patel. "In the future, we want it to be see one or see many, simulate 100, then under proctorship, do one."
Intuitive Surgical also offers training for surgeons, residents, fellows and surgical assistants.
Despite the challenge, surgeons generally find the extra training is worth the comfort robotic surgery offers. Instead of standing hunched over for hours, surgeons sit for the length of the surgery. Robotic surgery is also more ergonomic for the wrists, hands and neck, and after achieving the learning curve, most surgeons find that their robotic surgery time is either the same or shorter than their open surgery time.
"Standing on your feet for four or five hours tearing into a wound is a very uncomfortable and unnatural position," says Michael D. Stifelman, associate professor, Director of Robotic Surgery, Department of Urology at NYU Langone Medical Center. "In robotics there's a lot less stress on the body."
Putting robots to the test
Even with the apparent advantages, cost and questions about the value are still major roadblocks to a complete robotic takeover of medicine – a da Vinci robot system runs for more than $1 million. Because surgical robots have only been in use for a decade or so, there has not been enough time for clinical trials to reveal results until now. Most studies done in the past reflect the experiences of only one institution, leading skeptics to conclude that successful results could be the work of a skilled surgeon, not the robotic system.
"People would say you can't use these studies to generalize, but up until 2012, there really was no other form of evidence out there," says Intuitive's Mohr. "In 2012, however, several studies using large population-based data came out definitively showing the benefit of using surgical robots for many surgeries."
Recently, studies have been done that look at Medicare databases of patients and note length of hospital stays and rates of complications. A European Urology study from April 2012, one of the first robotic surgery studies to look at a variety of patients from different hospitals, found that robotic surgery for bladder cancer leads to fewer complications than traditional open surgery. Other studies from 2012 found that robotic prostatectomy has better outcomes for urinary continence and erectile function than other surgical methods.
Mohr predicts that future research will further support the value of the surgery for patients. In the meantime, she says the expansion of robotics in hospitals that already have systems demonstrates their value. She says many of the company's sales come from repeat buyers, and that some hospitals have as many as seven robots.
NYU Langone is among the repeat customers.
"We've gotten a robot a year for the last four years," says NYU's Stifelman. "And I'm sure as the demand grows, we will continue to get more robots."
Stifelman says that while the robots' cost is their most significant drawback, he believes the systems help his hospital save money in the long run by decreasing operating time and length of hospital stay.
The future of robotics
As if the surgical robots of today don't already sound incredibly futuristic, technology for health care robotics is always evolving. And while the robots perform impressive work, surgeons are interested in seeing certain improvements going forward.
"I would like to see the instruments on the single-site platform become smaller and wristed, so they're more flexible," says Stifelman. Patel hopes robots will eventually be enabled with imaging systems that allow surgeons to see nerve bundles.
Soon, even more robotic surgery companies are slated to enter the market. Valvo of Rochester General is also the vice president of medical affairs for a new company called Titan, which expects to release its first robot prototypes this year.
"Titan is involved in developing a robot that will be more cost effective, easier to use, more ergonomic and directed at single site applications," says Valvo.
Fifteen years or so in the future, Mohr of Intuitive Surgical predicts that single-site robotic surgery will become more essential as advances are made in early cancer detection.
"The robots will be used to go in and take out small cancers that we're finding earlier, and then the patients will be able to go on with a normal life," says Mohr. "They may struggle to find where their scars are. This is what I see as the future of how robotics will intertwine with improvements in our ability to detect and diagnose early on."