From mammography to ultrasound, if your company is trying to reach the women's health market then you will want to be seen in the July issue of HealthCare Business News.
We look at the ways technology is ushering in more personalized care for a diverse range of patients. Whether it be secondary breast screening modalities, new software to interpret breast density, or improvements to workflow with OB/GYN ultrasound, new innovations are paving the way to better outcomes in women's health.
We also get you prepped for two major trade shows that are fast approaching. The AHRA 2019 Annual Meeting in Denver, CO from July 21-24, and AHRMM being held July 28-31 in San Diego, CA.
Featured stories this month:
What's new in breast imaging
We look around the industry to bring you insights on the mammography, tomosynthesis, ultrasound and MR systems and software that are geared toward breast imaging and have entered the market over the last 12 months
Breast density update
Momentum continues to grow with breast density legislation that helps put women in control of their health. We break down the progress taking place and also speak with some of the leading advocates of density awareness to find out how these laws are improving outcomes.
OB/GYN ultrasound trends and innovations
Ultrasound is a workhorse modality when it comes to women's health and especially childbirth. We talk to some of the leading manufacturers and healthcare providers about what distinguishes the latest tools from the previous generation.
Imaging center management
With AHRA around the corner, imaging center management is taking center stage. We highlight Springfield Clinic and its director of diagnostic imaging, Brenda Bale, to find out how the facility is staying ahead of the curve regarding reimbursement, fostering partnerships with neighboring clinicians, and more.
Columns and Departments:
FDA MQSA update for mammography, and ACP guidelines
Dr. Nila Alsheik, a diagnostic radiologist at Advocate Lutheran General Hospital in Park Ridge, IL recaps significant changes to mammography guidelines and what they mean for today's shared decision-making healthcare landscape.
Automated breast ultrasound
Dr. Serena Tidwell, medical director of Pink Monarch Breast Center in Georgia, discusses the role of OB/GYNs and automated breast ultrasound (ABUS) in delivering personalized breast care and assessing dense tissue.
IT Matters
Eliot Siegel is at the forefront of medical imaging innovation and discusses some of the trends that he sees shaping the industry, including liquid biopsies and artificial intelligence.
Year in Review
We recap some of the biggest current events impacting women's health over the last 12 months.
Future of breast screening
Pam Cumming, the director of Siemens Women's Health Portfolio, shares top level insights on how breast screening is changing.
Shows & Events:
AHRA leadership Q&A
Bill Algee, AHRA president, shares top level insights in our exclusive interview.
AHRMM leadership Q&A
Teresa L. Dail, former chair and current member, shares insights on the upcoming meeting.
Numbers that will drive your July sales message home:
Total Print Circulation: 32,466
Diagnostic Imaging Center Manager/Supervisor: 5,386
Director/Administrator Diagnostic Imaging: 3,125
Director/Manager Biomedical Engineering: 4,028
Additional Online Emailed Circulation: 32,500+
Advertising Deadline Close: Tuesday, June 11th
Materials Deadline Close: Thursday, June 13th
Trade Show Bonus Distribution:
AHRA 2019 - Mark your calendars now for AHRA 2019 in Denver, CO from July 21-24, 2019. This is a wonderful opportunity to network with 1,000+ medical imaging leaders and 150+ leading industry exhibitors, as well as gain insight into healthcare services, tools, and trends that will impact your patients and facility from over 70+ educational sessions.
AHRMM 2019 - Association for Health Care Resource & Materials Management (AHRMM) July 28—31, 2019 in San Diego, CA. The AHRMM Conference offers a chance to capture a year's worth of health care supply chain news and best practices in just four days. Tap into the knowledge of field experts, fellow health care supply chain professionals and executives.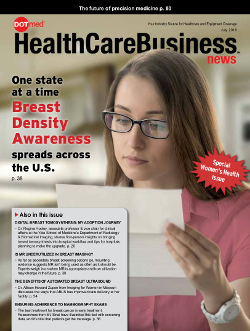 *Our 2018 Women's Health cover shown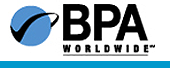 DOTmed is BPA certified, meaning that a neutral third party has verified our circulation numbers.
Advertise on DOTmed's Homepage: Check out the new Resource Guide to promote your company, products & services
---
Digital Distribution
Each month DOTmed emails a digital copy to 32,500+ users.
New sponsorship opportunities available.
Contact us for more information!
Special Advertising Deals for AHRA Exhibitors:
Front of book or AHRA content placement:
1/4 page + Pick two AHRA exhibitor bonuses
$1,525
1/2 + Pick three bonuses
$2,750
Full + All four bonuses PLUS extra New Product Showcase
$4,550




Back of book

Resource Guide

placement:
1/4 page + Any single AHRA exhibitor bonus
$750
1/2 + Any two bonuses
$1,375
Full + Any three bonuses
$2,275

All advertisers receive homepage banner



Bonus #2


AHRA Preview Email - Booth Write Up

High Visibility - AHRA preview email
List your company name and booth #
Received by 10,000+ Past AHRA attendees the week before AHRA
Highlight your services and attach a link to your website
Up to 100 word count

$500 per placement if purchased separately from print advertisement
Call your sales representative for more information: 866-999-DOTmed (3686) Ext. "Ads" (237) or email us at sales@dotmed.com
Need an ad? DOTmed's award-winning in-house ad department is here to help.